When planning a ute tray for your ute in South East Queensland, there are a number of key factors to consider. At the forefront of any decision is the need for the ute tray to perform the task you want for years to come. While many owners first think of cost when considering purchasing a ute tray, upon further research, they soon discover the decision is not so straightforward.
One of the biggest choices you will need to make is deciding between aluminium or steel ute trays. A great idea is to visit manufacturers of custom ute trays to see the range available for yourself. If you live on the Gold Coast, Sunshine Coast or around South East Queensland, manufacturers of custom ute trays will be able to point out features specific to the weather conditions in your region when you inspect their products in person. For example, if you are planning to take your ute fishing on the beach then you will need to consider the effect of salt on your ute tray.
There are 4 main considerations when choosing between steel and aluminium ute trays:
Weight
Steel is heavier than aluminium. Having a ute tray made from steel will affect the load capability of your ute. The heavier weight will also affect fuel efficiency. Conversely, steel is more durable than aluminium and offers greater strength when transporting heavy items, so you will need to balance the benefits of each.
Strength
Steel is more rigid than aluminium and can be up to four times stronger making it suitable for transporting heavy machinery or rocks. Aluminium is softer than steel and can be damaged more easily. You will need to weigh up the importance of strength in your day to day activities.
Corrosion
Aluminium is particularly resistant to corrosion and rust which is a great benefit if your ute tray is regularly out in the elements or in coastal areas of South East Queensland such as the Gold Coast and Sunshine Coast. On the other hand, it is possible to rustproof your steel ute tray by hot-dip galvanising, powder coating it or even just painting it. While these measures do help, the slightest chip or scratch can start the corrosion process.
Cost
There is not as much difference in price between aluminium ute trays and steel ute trays in South East Queensland as you might expect, especially when you consider the raw cost of aluminium is about a third higher than steel. There does seem to be significant fluctuations in price in the prefabricated ute tray market. The pricing on custom made ute trays is more predictable with the added benefit of the ute tray being tailored to suit your specific needs. If cost is your only concern, then a prefabricated ute tray will be the cheaper option.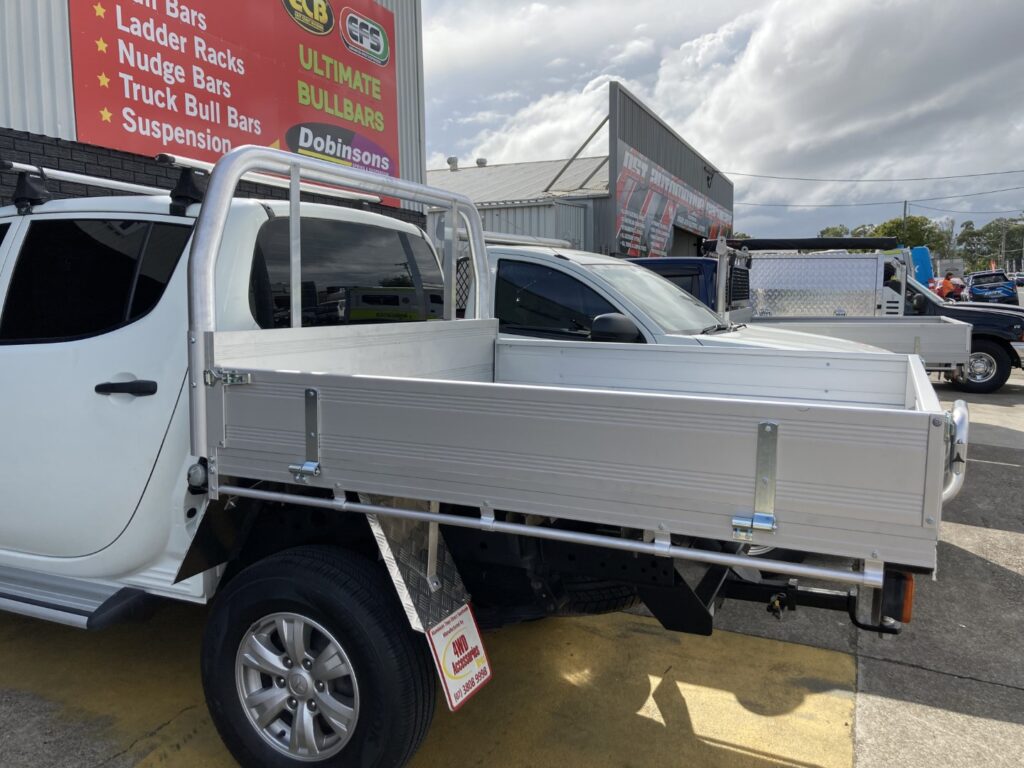 Other Considerations
Apart from the materials you choose your ute tray to be manufactured from, the next biggest factor to consider is the size of your ute tray. In this case, size really does matter! The size must be appropriate for your brand of ute and its chassis. If the ute tray doesn't fit well, it won't function well so make sure you plan the dimensions accordingly and have a ute tray custom made for your vehicle if necessary.
Other factors to consider include options such as canopies, ladder racks and toolboxes. It is important to plan the configuration of these when designing your ute tray, even if you plan to add these items later. It is also important to consider the materials you will regularly be carrying and the installation process.
A word about Hydraulic Tippers
Hydraulic tippers are specialist ute trays that have a hydraulic tipping system attached to them, allowing the ute tray to tip – or raise up from one end. They are particularly useful when transporting landscape supplies and produce, saving a lot of time and energy that would otherwise be spent unloading the ute tray. Hydraulic tippers require a custom install of the frame, hydraulics, mounting and electrical equipment.
Our team at 4WD Accessories Direct have been manufacturing steel and aluminium ute trays for years and have a wealth of knowledge and experience to help customise your design. We provide custom ute trays to the Gold Coast, Sunshine Coast, Brisbane and South East Queensland regions in Australia
Contact us for further information.
Maybe even throw a challenge our way – we are certainly up for it!