4WD Accessories Direct has over 25 years of experience manufacturing, supplying, installing and custom fitting aluminium tool boxes to ute trays of all shapes and sizes. Over that time we have come to understand our customers' needs quite well. Some customers require their aluminium tool box for work, some for recreational purposes and some need their toolboxes to cater for both work and play.
In response to these needs, the team at 4WD have created a range of aluminium toolboxes to suit almost any scenario. If we haven't got a toolbox in our range to suit your needs, we can custom make one for you. We usually make toolboxes out of aluminium because they are lightweight, yet durable. However, we can make customised tool boxes for you out of other materials such as steel.
The type of toolbox you need will depend on the configuration of your ute tray and what it will be used for. In South East Queensland one of the key considerations is protection from the weather, in particular the rain. Some tradies actually prefer to install their toolboxes under the tray. Under the tray tool boxes in areas like the Gold Coast are protected further from rainfall while leaving the ute tray free to carry other items. The Gold Coast is particularly prone to torrential downpours so choosing an under tray tool box on the Gold Coast can mitigate the risk of tools being damaged from the rain.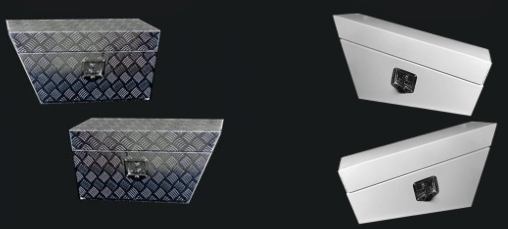 In contrast, 4WD enthusiasts generally prefer their aluminium toolboxes to be installed on top of the ute tray to allow maximum clearance under the vehicle and to minimise flooding from creek crossings or other waterways.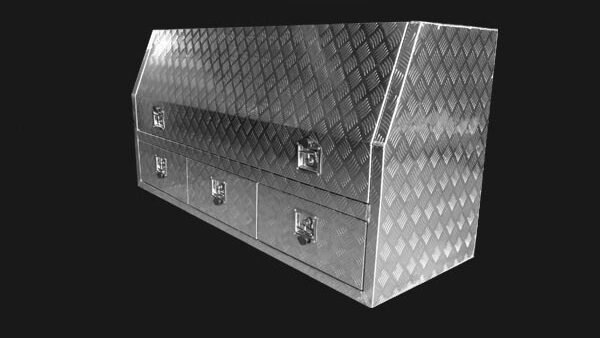 In cities like Brisbane and the Gold Coast in South East Queensland, security is a key factor when selecting ute tool boxes, regardless of whether they are under the tray or above. Aluminium ute tool boxes can be securely locked to prevent opportunistic thieves from stealing your tools. The toolbox can also be attached to your ute tray, providing another layer of protection and preventing your toolbox from sliding around in the back of your ute.
When choosing a ute tool box in South East Queensland, there are a lot of choices to choose from. A visit to our facility in Slacks Creek, Brisbane will reveal aluminium toolboxes in all shapes and sizes. The following list of aluminium tool box categories will give you some idea of the range available:
High Side Full Open Door Aluminium Tool boxes
High Side 3/4 Open Door Aluminium Tool boxes
Square Edge Aluminium Tool Boxes
Highside Tool Boxes with Drawers
Low Profile Aluminium Tool Boxes
Under Tray Ute Aluminium Tool Boxes
Dog Boxes – a variation on the traditional tool box
Gull Wing Tool Boxes
Various sizes are available in each of these categories. If you are thinking about adding a toolbox to your ute tray, check out our range and have a chat with us about the combinations available for your ute. Together we can customise the perfect tool box addition to your ute.