If you have ever gone to collect materials from your suppliers only to realise, the materials are too long for your ute,  then you have probably experienced the frustrations of having to wait for the materials to be delivered instead. As a tradie, time is money and you don't want to have to wait around at the job site for a material delivery, especially if you know that with ladder racks you could have collected it yourself. 
So, regardless of if your ute is still stock or you have already begun to add customisations like ute canopies, custom ute trays or under tray tool boxes, then a ladder rack needs to be next on your shopping list.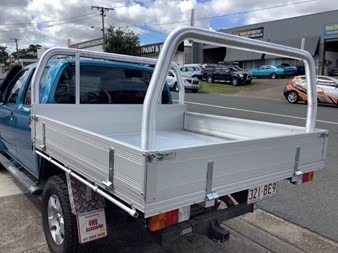 Ladder racks are steel racks placed over the tray above the roof height of the cab. Ladder racks are popular amongst tradespeople for the benefit that they allow for the transportation of longer pieces of building material. This includes materials such as timber, roofing, pipes, conduit and of course ladders.
Based in South East Queensland, 4WD Accessories Direct manufactures ladder racks to suit any model ute. Our ladder racks are made using high-quality Australian steel and come in a range of finishes including polished, satin or powder-coated. 
Ladder racks are mounted either to the ute tray or to the top of your custom ute canopy. They can be aligned with the roof racks on your cab to allow for the transportation of even longer materials. Further, an additional ladder rack can be fitted to the bull bar allowing for the transportation of materials as long as your vehicle.
4WD Accessories Direct manufactures custom ute canopies in South East Queensland and ladder racks and tool boxes are very common additions. On the Gold Coast, a ladder rack can make work life easier during the week and trips away on the weekend more enjoyable. You will often see custom ute trays on the Gold Coast with ladder racks loaded with kayaks, tents and stand-up paddleboards on the weekend. 
Customising your ute tray with a ute canopy or ladder rack is becoming increasingly popular on the Gold Coast and in South East Queensland for the added benefits they provide. Providing additional storage, protecting your equipment from dust and water, securing it from theft and allowing you to transport larger loads are just a few of the benefits of these customisations. 
However, ladder racks and ute canopies are not the only customisations popular amongst South East Queensland tradies. Undertray tool boxes are very common on utes across the Gold Coast and the rest of South East Queensland. Undertray tool boxes provide convenient storage beneath the tray and around the wheels, taking advantage of the space beneath the tray that is otherwise unused. 
Undertray toolboxes from 4WD Accessories Direct are perfect for tidying up the clutter in your tray. They are made from Australian aluminium and come in a range of different finishes, including polished, satin and powder coated. They are equipped with rubber seals to protect your equipment from dust and water.
Start taking advantage of the benefits of ladder racks by installing them on your vehicle. Allow the expert team at 4WD Accessories Direct to design and fit ladder racks to your tray or custom ute canopy and start attending your Gold Coast worksites fully prepared. Contact us today.
Find out more about our ladder racks here.