A ute tool box is perfect as either your first ute customisation or your next one. In South East Queensland, ute tool boxes can be found on almost every ute you see on the road.
Utes are one of the most popular vehicles on the market. If you are a tradie you no doubt purchased a ute for work. In Australia, a ute is a necessity for most tradespeople. If you are not a tradie then you most likely purchased your ute for the flexibility it provides you. Doing odd jobs around the house or taking the family away on a road trip or camping weekend is much easier with a ute. Either way, if you haven't already then you should seriously consider purchasing a ute tool box.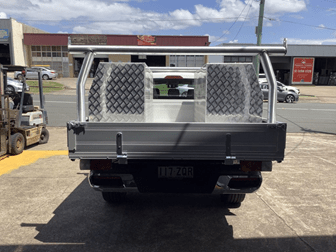 Benefits of a Ute Tool Box
Ute tool boxes provide a range of benefits to both professional tradespeople, DIYers or those who just use their ute for recreation. These benefits include flexibility, convenience, security and affordability.
Ute tool boxes don't have to be used exclusively for tools. While they are perfect for storing your tools and transporting them to the job site, they have plenty of uses for other ute drivers or even for tradespeople on weekends. Ute toolboxes are a great storage option when going camping, a day to the beach or park or even when picking up the groceries. This flexibility of use means every ute should have a ute tool box in South East Queensland.
When you purchase your ute, the tray is convenient however it is not secure. This may cause you hesitation in storing anything of value on the tray. Ute tool boxes are secure and lockable, allowing you to store valuable tools and equipment in them without being afraid that they will get stolen. No matter where you are on the Gold Coast or across South East Queensland, you can have a piece of mind that your valuables are secure.
While your preference may have been to drive your ute around the Gold Coast with a full custom ute tray or ute canopy, you may still be on an apprentice wage or just on a tight budget, so this is not an option. Ute tool boxes are a great affordable option that gives you some of the benefits without all of the cost.
How Ute Tool Boxes are Made
Ute tool boxes are either made in advance using templates specific to your make or model, or are custom designed to suit your exact needs. If you already have a custom ute tray or custom ute canopy, then you may need to look at a custom tool box as the space available may not fit a pre-made one.
Ute tool boxes come in a range of different shapes, sizes and configurations, including high side and low profile toolboxes, tool boxes with door and drawer combinations, square edge tool boxes, under tray tool boxes, dog boxes, gull-wing toolboxes and many more.
Regardless, all aluminium ute tool boxes from 4WD Accessories Direct are built using high-quality aluminium checker plate or marine-grade aluminium with a powder coat finish. They include heavy duty T bar locks, a full length hidden piano hinge and real rubber seals to protect the contents from dust and water.
Why buy your ute tool box locally?
Not all ute tool boxes are created equally. Ute tool boxes that are manufactured overseas are not built to survive the Australian conditions. Ute tool boxes on the Gold Coast need to be built to survive the corrosive salt air and scorching summer conditions.
Local manufacturers such as 4WD Accessories Direct understand these conditions better than anyone and ensure their products are built to last. They have spent 25 years building custom ute canopies, ute trays and ute tool boxes for clients from the Gold Coast and across South East Queensland.
If you buy your ute toolbox from overseas, you risk it not fitting your Australian model ute. 4WD Accessories Direct are specialists in ute customisations for all Australian makes and models. We have a range of templates that are used to ensure your custom ute tool box fits your make and model perfectly. If there are any issues with fitting your tool box the team is just a short drive from the Gold Coast to assist.
Your ute needs either a custom ute tray or canopy or, at the very least, a ute tool box. 4WD Accessories Direct are a local manufacturer and supplier of ute tool boxes to the Gold Coast and the rest of South East Queensland. Contact the friendly and experienced team today to discuss your options.
Click here to find out more about our ute tool boxes.