When you pull up to the job site are you suffering from at least a little bit of ute tray envy? If your ute tray is still stock, then it is time to start considering the many custom ute canopy and tray options available. Custom ute trays and custom ute canopies are extremely popular, especially on the Gold Coast, Sunshine Coast and across South East Queensland. 4WD Accessories Direct are a local manufacturer of custom ute canopies and ute trays that service this region.
A stock ute tray has its uses and its benefits making them extremely popular in Australia. But depending on your needs, adding a custom ute canopy can further improve its usability. Dual Cabs are among the most popular utes for their ability to transport a family of 5. 4WD Accessories Direct produce a range of prefabricated ute canopies to suit all major brands of dual-cab utes, but they also produce custom ute canopies on request.
All prefabricated and custom ute canopies are manufactured by 4WD Accessories Direct using marine-grade aluminium and are available in either a checker plate or powder coat finish. The powder coat finish is especially popular for a custom ute canopy on the Gold Coast or Sunshine Coast for its enhanced corrosion resistance and for custom ute canopy designs made from steel.
Dual Cab utes are a popular choice for those who intend on going for a drive along the beach or four-wheel driving in the hinterland of South East Queensland. A custom ute canopy or ute tray needs to therefore be built to last and withstand the bumps, shocks, salt, sand and dust of these areas. The best custom ute canopies are built by top-quality professionals with fully welded seams. The doors should be equipped with full-length hidden stainless steel piano hinges, long-life gas struts and a real rubber seal. 4WD Accessories Direct manufactures all their prefabricated and custom canopies to these high standards.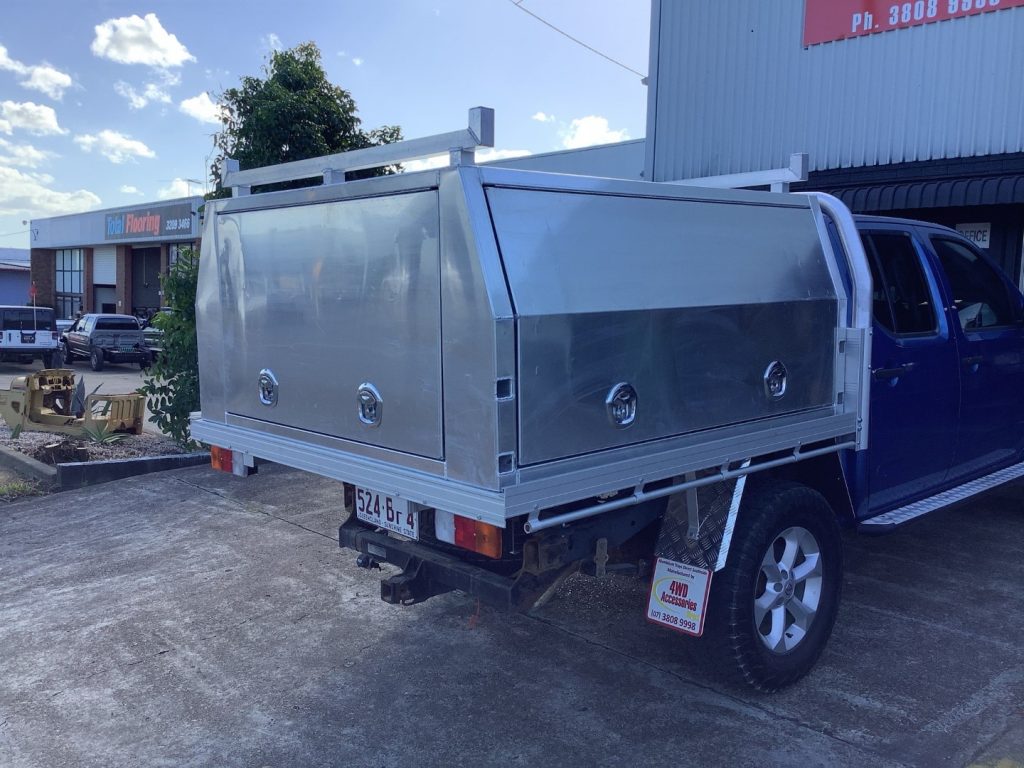 A common addition to a custom canopy is the ability to remove it with ease. This allows the tray of the ute to still be accessible and the weight of the canopy removed when not needed. Custom Ute Canopies fitted with 4 x heavy duty jacks allow for this easy removal of the canopy. This is a common addition for those whose ute is a work car during the week and a family car on weekends.
When fitted to a ute a custom ute canopy can limit the ability to transport larger or bulkier items. Fortunately, 4WD Accessories Direct can fit ladder racks to the custom ute canopy. The heavy-duty ladder racks are made using 40mm x 40mm bars and allow for items to be carried on top of the canopy. When combined with racks on the roof of the ute cabin items greater than 4m in length can be carried.
If a full or half ute canopy is not what you are looking for then a customised ute tray may be more suitable. 4WD Accessories Direct are manufacturers of custom ute trays for the Sunshine Coast and across South East Queensland. Ute trays are available in either aluminium or steel with several customisations available. These customisations include full-length rope rails, ladder racks and under-tray toolboxes.
Whether you are looking for a ute canopy on the Gold Coast or a ute tray for the Sunshine Coast, 4WD Accessories Direct are leading manufacturers who love to build customised solutions for their clients. With over 25 years of experience, we are the trusted professionals regardless of the brand of ute that you drive. Contact 4WD Accessories Direct today, or visit us at our Slacks Creek location.