Equipping your ute tray with one of our many aluminium tool boxes is a great choice to enhance your ute. Aluminium tool boxes add greater usability and versatility to how a ute supports people to live, work and play every day. 4WD Accessories Direct is a local manufacturer of  Aluminium tool boxes for the Gold Coast and Brisbane Areas. They manufacture and install an extensive range of ute tool boxes to suit all people and lifestyles.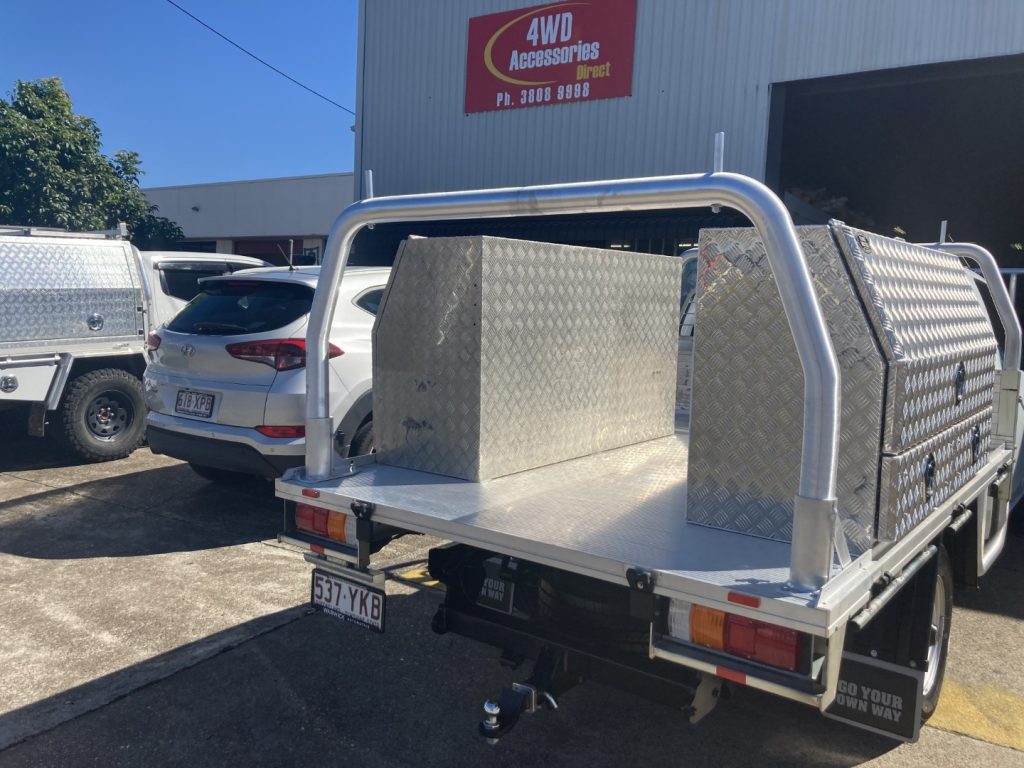 Live well
Utes have many great benefits, but one of their most significant drawbacks is their total lack of boot space. The tray is great for storing large bulky items, but smaller items find themselves rolling around unsecured after the first corner. Ute tool boxes are therefore an excellent option for those shopping trips to Brisbane or the Gold Coast. Aluminium tool boxes are lockable, keeping your shopping secure as you travel between stores and leave your car parked in the carpark.
A ute tool box is great for the weekly grocery shop as well. The tool boxes from 4WD Accessories Direct are equipped with high-grade rubber seals that protect the contents from dust and water.
Work well
Regardless of your trade, chances are you have spent a fortune on your tools. Your tools are your livelihood and them getting stolen or damaged is stress that no tradie needs. Tools are a prime target for thieves as they are easy to sell and most people park their utes on the street at night. This is why tradies fit their vehicles with ute tool boxes across Brisbane and the Gold Coast.
Aluminium tool boxes that are locally manufactured from 4WD Accessories Direct are equipped with heavy-duty stainless steel T bar locks and full-length hidden stainless steel piano hinges, which assist in keeping your tools and equipment safe from theft.
Keeping your tools free from damage is another reason why installing an aluminium tool box is essential. Good quality locally manufactured tool boxes include 2 heavy duty long life gas struts, fully welded seams and are made using a heavy-duty aluminium checker plate.
Organisation seems to be all or nothing for some tradies; either they are entirely organised, or they're not. High Side Tool Boxes come fitted with an adjustable heavy-duty shelf that helps to keep your tools in order and not just in a pile at the bottom.
In addition, aluminium tool boxes come in a range of shapes, sizes and configurations that allow you to get the exact set-up you need to transport all of your equipment safely.
Play well
Brisbane, the Gold Coast and surrounding areas are full of places for locals and visitors to explore. A ute equipped with an aluminium tool box setup is empowered to explore these beautiful regions. Road trips, beach trips, camping holidays or complete 4WD adventures are made more accessible when your ute tool boxes are fully loaded with all the gear you need.
Ute tray tool boxes on the Gold Coast and Brisbane that have been purchased from 4WD Accessories Direct are fitted with authentic rubber weather seals to resist dust and water. So, as you are cruising up the beach, attempting a river crossing or sending the ute through some mud, your equipment stays dry and clean.
Aluminium tool boxes are an important and almost necessary customisation for every ute. They are perfect for providing a secure, dust-free and waterproof environment for keeping any possessions safe. For this reason, a ute tool box offers benefits to every member of the family and allows you to get more out of your ute. Based in Slacks Creek, 4WD Accessories Direct manufactures a range of ute tool boxes for Brisbane, the Gold Coast and surrounding areas. Contact us today and explore our full range of aluminium tool boxes.