Under tray Toolboxes for ute trays in South East Queensland;
Undertray toolboxes are not something that immediately comes to mind when we think of how ute toolboxes are used in South East Queensland. However, they are very popular and provide a very safe and space-efficient solution for the storage of small tools and supplies. Often they are used in conjunction with toolboxes that sit on top of the ute tray to really optimise storage possibilities, further extending the functionality of ute toolboxes.

In cities of South East Queensland like Brisbane and the Gold Coast, it only takes an observant drive around the suburbs or down the freeway to see how many utes have had customised ute toolboxes added to them. The toolboxes that sit on the ute tray are fairly easy to spot. Once you start looking carefully, you will also notice ute tool boxes tucked under the ute tray, usually behind the back wheels of the ute. If you look even closer you can also find hidden, slide-out, under tray tool boxes which are referred to as under tray drawers.
So let's look a little more closely at both under tray ute tool boxes and drawers to discover why they are so popular:
Under Tray Ute Toolboxes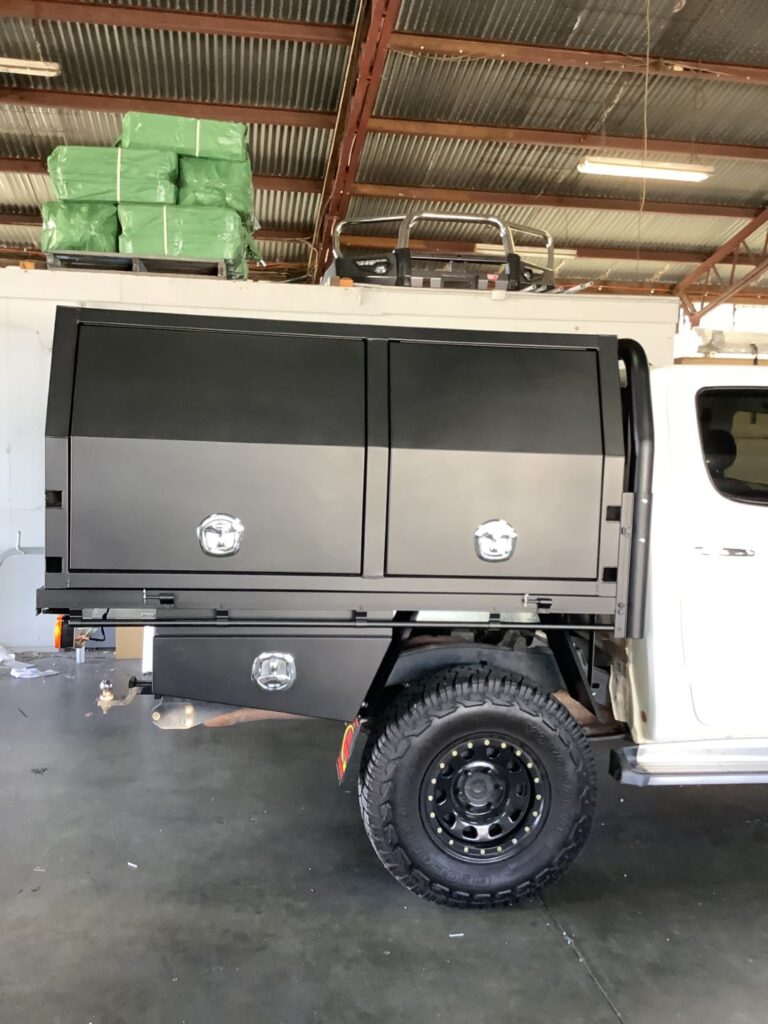 Under tray toolboxes free up space on the ute tray by providing efficient storage that is tucked away. They are very economical to buy – always a plus. The most popular designs of under tray toolboxes are made from aluminium which is very lightweight. Aluminium under tray toolboxes typically weigh around 15kg, hardly affecting the available load and fuel efficiency. They are also very strong and durable and can be easily fitted to most models of utes. Custom under tray tool boxes are also available for any difficult to fit models.
Ute tool boxes in South East Queensland are often powder coated for aesthetic purposes, often to match the colour of the ute tray. Our tool boxes at 4wd Accessories Direct typically include fully welded seams, heavy-duty stainless steel T bar locks, rubber seals to resist dust and water and strong hinges. Some models of our under tray tool boxes include a piano hinge along the full length of the tool box for extra strength and durability. The combination of features delivers a quality product which our customers have come to trust and expect.
Under Tray Ute Drawers
Under tray ute drawers provide clever storage without detracting from the lines of the ute. They offer many of the same features as under tray ute tool boxes and are popular amongst more discerning customers who value style combined with functionality.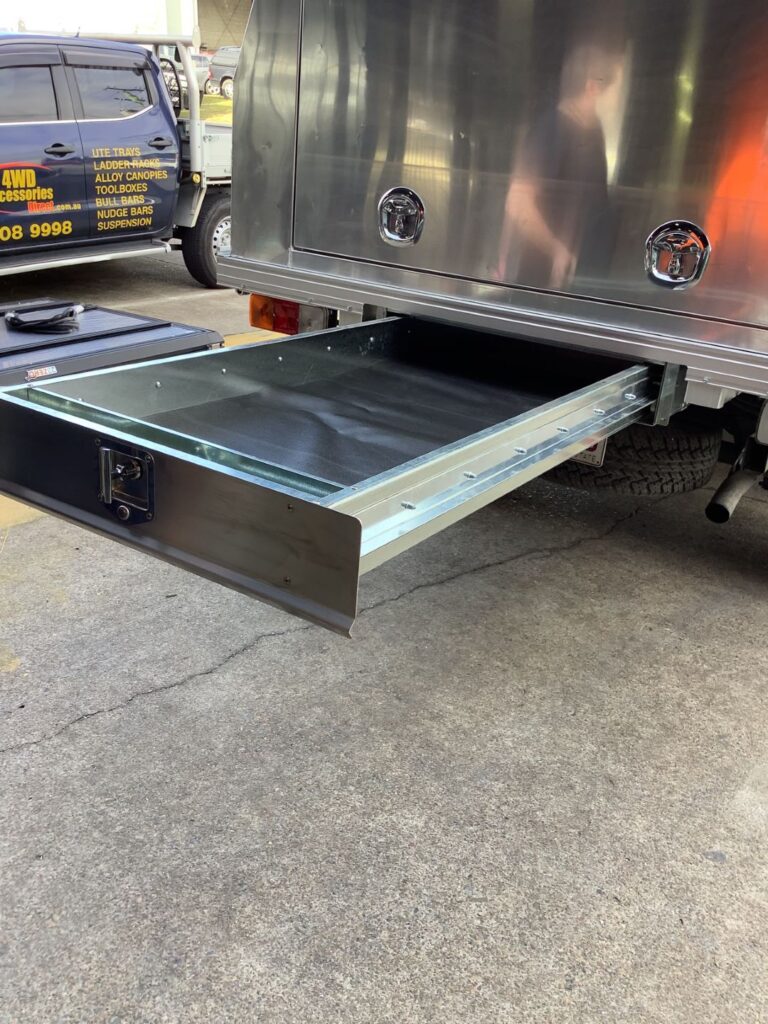 Aluminium Under Ute Tray Drawer Installed in Slacks Creek, Brisbane
Common to both the under tray tool box and the under tray drawer is their space efficiency and ability to keep the top of the ute tray free to carry larger items such as machinery or landscaping supplies. The danger with ute tool boxes is they are a little addictive – once you have one you just want to keep adding more, mainly because they are so efficient, safe and look pretty good as well. Ute tool boxes can be added to your ute in stages if the budget is a consideration. This means you can design your dream configuration of ute tray, tool boxes, ladder racks and canopy and have the choice to get them all installed in one hit or installed in stages.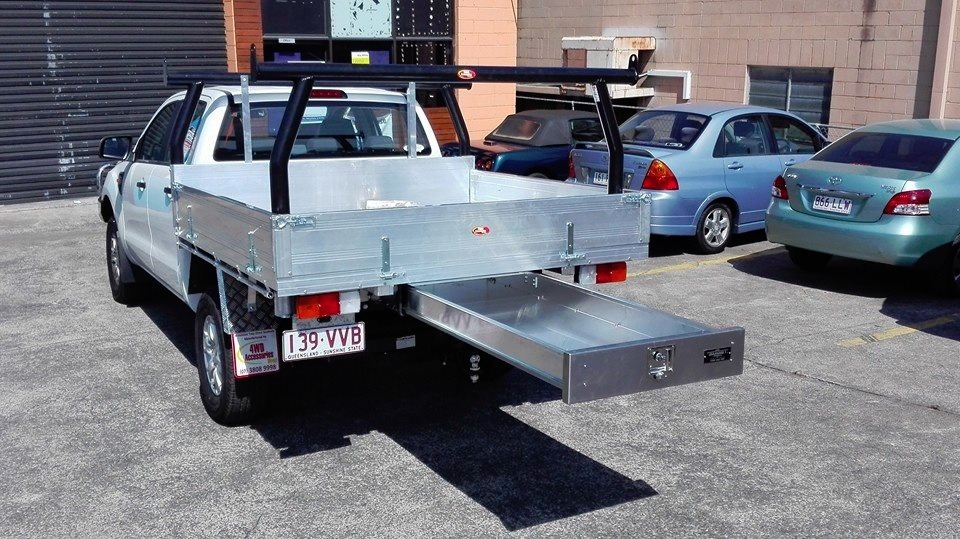 Talk to us about what you need to accomplish. Together we can come up with a plan that suits both your needs and budget.
Contact 4WD accessories direct to discuss your under tray ute toolbox requirments