What toolbox is right for my Ute is not exactly an age-old question, but it is a question that Ute owners should ask themselves. Choosing the right Ute tool box now can save you enormous headaches later. So, here are some of the questions you need to consider before purchasing a toolbox for your  Ute: what type of Ute and tray do you have, what tools or equipment do you need to store and where do you live and work, are you close to the beach or somewhere dusty?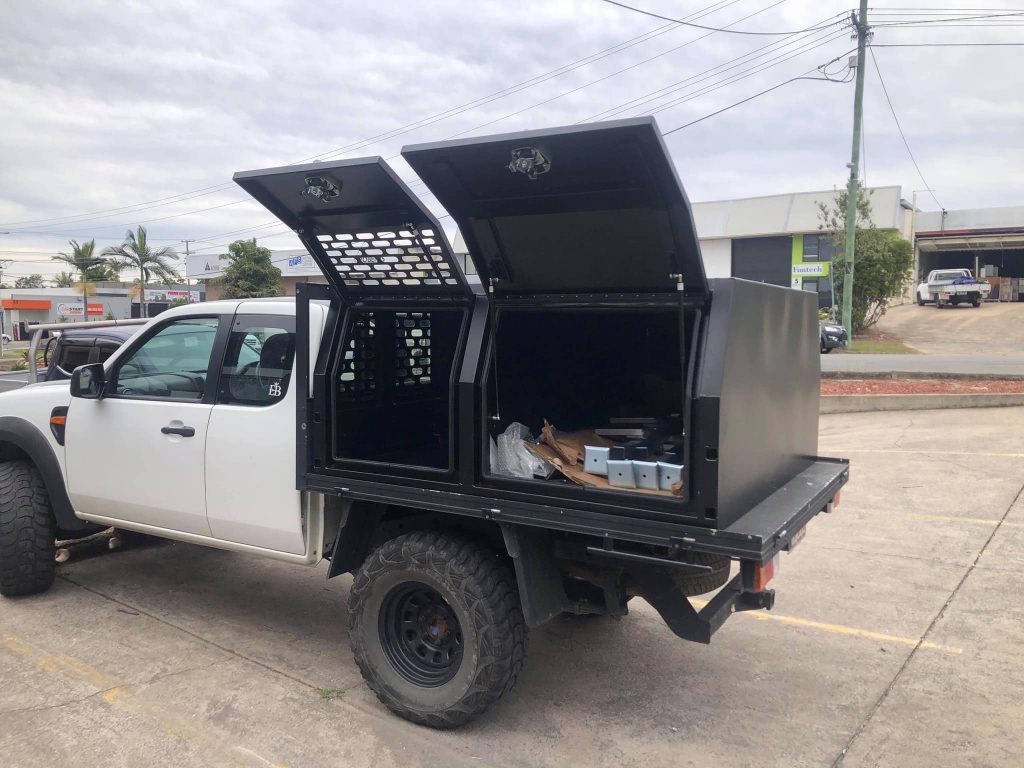 Prefabricated or Custom?
There are a number of options available when it comes to Ute toolboxes and it just depends on what exactly you are looking for. At their Slacks Creek factory just south of Brisbane, 4wd  Accessories Direct produce a number of prefabricated Ute tool boxes including: High Side Full and ¾  Open Door, Square Edge, High side Toolboxes with Drawers, Low Profile, Under Tray and many more. 
Covering all major brands of Ute including Toyota Hilux, to Isuzu D-Max, there are prefabricated toolbox options available to suit either a single cab or dual cab, tray or tub set up.
Leaving nobody out, if you're responsible for bringing the foreman aka man's best friend to the site then you may want to consider a prefabricated Half or Full Dog box on your tray set up.
If none of the prefabricated options is exactly what you are looking for, the team at 4wd  Accessories Direct can work with you to produce a custom Ute tool box to suit your needs. A custom-built toolbox setup is the perfect way to maximise the space in your Ute, keep your tools secure and make sure they are accessible when you need them.
Our Slacks Creek factory services all of Southeast Queensland and has 25 years of experience manufacturing high-quality Ute toolboxes for the Gold Coast, Brisbane, Sunshine Coast and surrounds.
Need something to withstand nature?
The best Ute tool boxes are those that are made from heavy-duty aluminium plates with stainless steel locks and long life gas struts. This means they are built to last and stand up to the harshest conditions.
However, if you take the Ute tool boxes with you to the beautiful beaches of the Sunshine Coast or  Gold Coast, or you are one of the lucky ones who lives or works there, then you need to consider corrosion protection. Options such as Marine Grade Aluminium or a powder-coated finish can help your toolboxes on the Sunshine Coast or toolboxes on the Gold Coast last longer and withstand the corrosive salt air.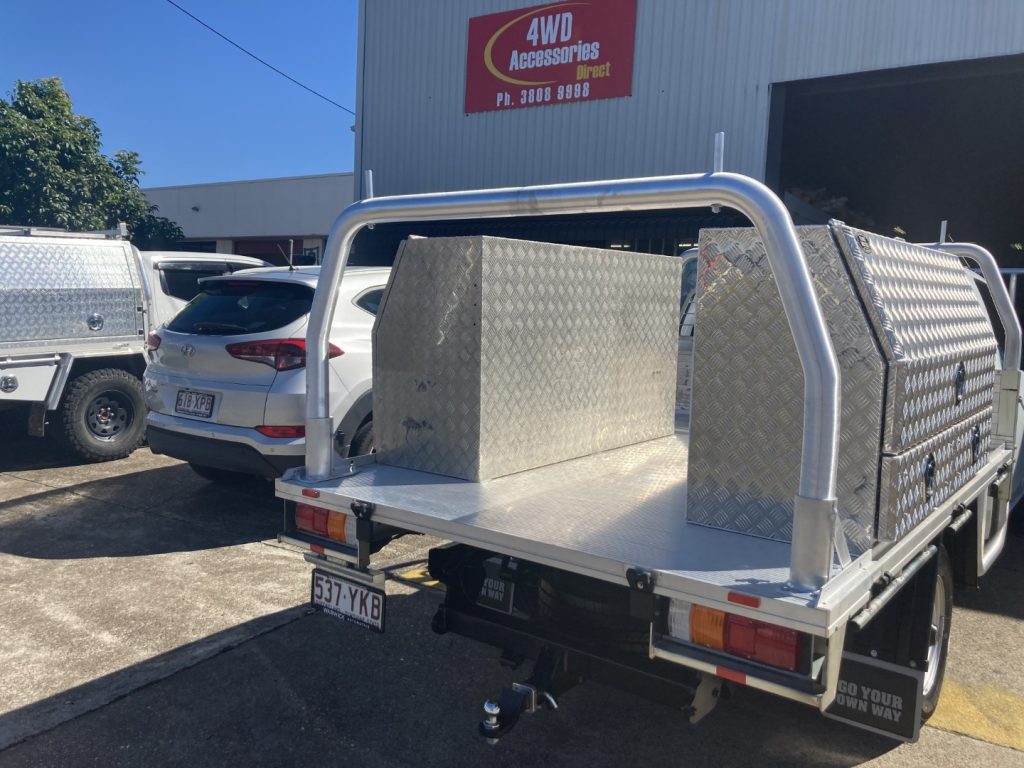 Are you a weekend warrior?
If you're not a full-time tradie or even just want the flexibility to use your Ute tray for other things, then a removable toolbox option may be worth considering. Removable tool boxes are perfect for when you need secure storage during the week, but also when you want to go camping on the beaches north of the Sunshine Coast, a trip away with the family to the Gold Coast or even just doing some landscaping at home in Brisbane.
Do you want to be the talk of the job site?
Let's not kid ourselves, it isn't just about how the Ute tool box functions but it is also about how it looks. For many of us our Ute's are our pride and joy, so why not equip it with a Ute tool box set up that you are equally proud of.
Whether you are going prefabricated or custom, the high-quality build, fit and finish of a 4wd Accessories Direct Ute tool box will make you the talk of the job site. We have already produced some of the best-looking Ute tool boxes on the Gold Coast.
Further, you can add a colour matched powder coating finish to your Ute tool box and make it look like it was a part of your Ute all along.
Other options
You might also decide that a Tool Box is not exactly right for you. If that is the case we also have a large range of Ute Canopies that might suit you better.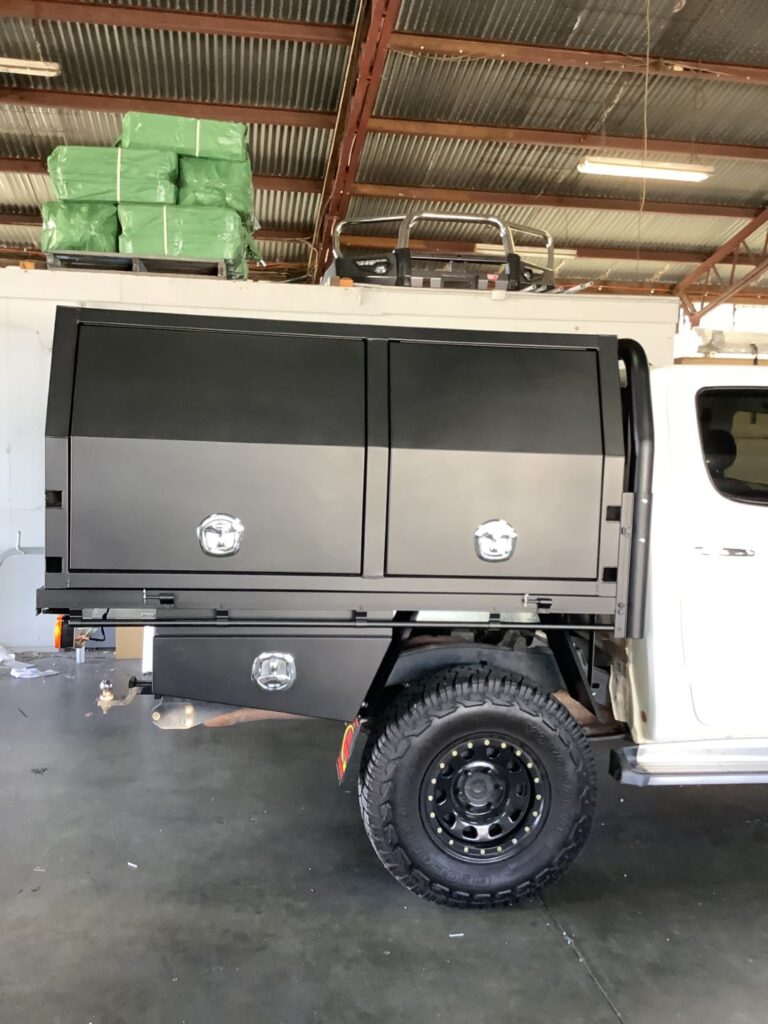 If you have decided on the right tool box for you, or still need some more information, then, contact us today, or come and visit us in person at our convenient Slacks Creek Factory location,  just south of Brisbane.